Every year, during the first weekend in November, Jupiter and the Abacoa Community come alive with the sights, sounds, and most importantly…the aromas of Italy. You are invited to embark on a cultural journey of authentic Italian food, music, art, and tradition at the 17th Annual Feast of Little Italy, November 1st, 2nd, and 3rd.
This family-friendly festival is held in the Town Center area at Abacoa in Jupiter. Parking is free and admission is free for children 12 & under. And, there's something for everyone!
Of course, you can feast on Italian favorites like sausage and peppers, pizza, calzones, ravioli, zeppole, cannolis, meatballs, and more. You can also relax in the family picnic area or pucker up at the Limoncello Martini Bar or enjoy these festival favorites:
Cooking Demos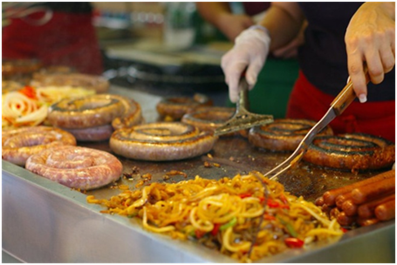 Enjoy live cooking demonstrations during the festival in the La Cucina Galbani Cooking Pavilion. See Galbani's celebrity chef Marco and special guests create Italian masterpieces. Watch and learn so you can replicate these recipes in your own kitchen. Mangia!
Aperol Spritz Piazza
Aperol Spritz lights up your toasts and adds joy to any moment. Join old and new friends at the Piaza for music, bocce games, and more!
Festival Rides
Come one, come all! Step right up and win a prize. All of your game favorites are at the Feast of Little Italy for your enjoyment. From popping balloons to shooting hoops, you're sure to get in the festival spirit with a little friendly competition.
Classic Car Show
Stroll through the Festival and enjoy The Southeast Classic Car Show with over 100 of the world's most unique cars. It's the newest addition to the Feast of Little Italy.
Little Smiles Village
Visit the Little Smiles Village presented by Kasper Electric and enjoy a free, children's area with fun arts and crafts, games, prizes and more. For a special treat, meet and take photos with Stringster, the Feast's official mascot.
Entertainment
Of course, there's live music and performances at the Feast of Little Italy! This year's lineup promises to be the best ever celebrating Italian and Italian American artists throughout the weekend appearing on the main stage.
Festival hours are:
Friday, November 1st, 2019: 4:00pm to 10:00pm
Saturday, November 2nd, 2019: 11:00am to 10:00pm
Sunday, November 3rd, 2019: 11:00am to 8:00pm
See you in "Italy!"
For information on real estate opportunities in South Florida from Palm Beach to Jupiter Island, contact a Tauber Real Estate Services specialist at 561-626-4633.