Summer has finally arrived! For moms and dads, the duty of acting as a distance learning teacher has been relieved, but now comes the task of keeping kids entertained until the fall. Since many traditional summer programs have been cancelled, we have compiled a list of camps, both in-person and virtual, that can keep kids active and engaged this season. Here are the organizations that are stepping up to serve the needs of the Palm Beach County community:
Craft Haus in Palm Beach Gardens (In-Person)
After being cooped up in the house for what seems like months on end, kids can finally put their imagination and creativity to good use at Craft Haus's Mixed Media Arts Camp. Campers will experiment with numerous art forms, including mosaics, pottery painting, canvas, and more. Every day is packed with fun art projects and activities that pertain to the theme of the week. Ages five and up are welcome!
Kids can also get their hands dirty at Clay Haus, a sister studio to Craft Haus. Campers will learn the mechanics of wheel throwing and can advance their pottery skills by practicing new techniques. The camp sessions are grouped according to age: "Kids" for ages seven to ten and "Tween and Teen" for ages eleven to fourteen. This camp is filling up fast, so do not forget to register your child for a week of fun and support small business!
Loggerhead Marinelife Center in Juno Beach (In-Person)
In accordance with the best practices and guidelines issued by the CDC, Loggerhead Marinelife Center is moving forward with its Junior Marine Biologist Summer Camp. The interactive JMB Camp programs are geared towards children ages six through seventeen that are interested in ecology and marine biology. Each week of the camp has a different theme, such as Ocean Adventures, where kids can enjoy snorkeling and kayaking excursions, or Sea Turtle Savers, where campers can participate in turtle rescue and rehabilitation simulations. Loggerhead is dedicated to providing its camp family with a fun, STEM summer education in the outdoors, all the while maintaining strict health and safety guidelines. Click here to discover information on weekly themes and to register.
Wild About Wildlife Summer Camp (Virtual)
If your little ones are not ready to dive in just yet, they can embark on a thrilling summer adventure from the comfort of the couch with Loggerhead Marinelife Center, Manatee Lagoon, Lion Country Safari, and the Palm Beach Zoo & Conservation Society. The Wild About Wildlife Virtual Summer Camp is a week-long virtual camp experience that will feature animal observations, experiments, games, crafts, and pre-recorded and live educational lessons. The camp will teach kids about conservation, wildlife, and the environment with specific themes each week. The topics are targeted towards children ages six through nine, but all ages are welcome to participate. This program is free, but a donation is suggested and greatly appreciated. Register here.
Blue Water Surf Camp in Jupiter (In-Person)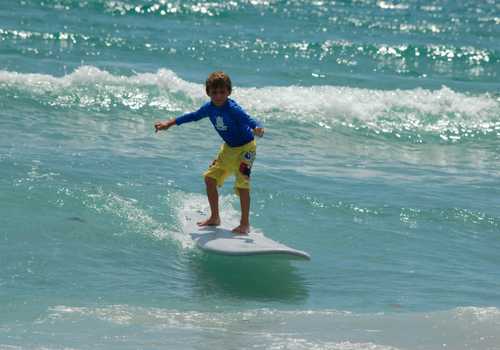 With Palm Beach County beaches now open, the Blue Water School of Surfing can ensure exciting adventures and fun in the sun this summer. The camp is taking necessary precautions to ensure the safety of its surfers and camp community. Surfing, ocean safety education, wakeboarding, tubing, and snorkeling are just some of the activities the campers will experience. The program is designed for both beginner and advanced surfers, so every child's surfing skills can be accelerated. The week wraps up with a surfing contest on Fridays (with trophies and prizes, of course). For further information, click here.
Palm Beach Sailing Club in West Palm Beach (In-Person)
The Summer Sailing Camp is now open to children ages five through seventeen while adhering to state and federal guidelines. Throughout the week, children can experience the joys of sailing while learning the fundamentals of boat handling, seamanship, sportsmanship, and water safety. This camp promotes a fun, safe environment where campers can master the art of sailing and learn lifelong lessons that strengthen respect for others and marine life. Campers are placed into groups according to their age and experience, so everyone can sail to success! To register your child, click here.
Keep Flippin' Gymnastics in Jupiter (In-Person)
Keep Flippin' offers a fun-filled summer camp for all ages! Each day is kicked off with four hours of gymnastics, followed by afternoon activities such as games, field trips, mini-golf, talent shows, ice cream parties, and much more. Keep Flippin' values performance over competition, which allows each camper to reach and surpass their goals. Click here for registration information.
Broadway Theatre Camp by the Palm Beach Children's Chorus in Palm Beach Gardens (Both In-Person and Virtual Available)
The Palm Beach Children's Chorus is hosting ten weeks of Broadway camp for your superstar! Campers will have the chance to sing, act, dance, and learn stagecraft and costuming. Kids can even showcase their talent for friends and family at the end of the week in a Broadway-style virtual performance. In addition to the on-site traditional camp, the Broadway Theatre Camp will host an online version every week. Virtual campers simply pick up a supply box for their scheduled camp activities and lessons, which will be taught on an interactive online platform. Register here.
Performing Arts Academy of Jupiter (In-Person)
This studio provides a professional and encouraging atmosphere where students can soar to new heights in their performing arts aspirations. Summer Camp 2020 offers summer-long Acting Camp, Musical Theatre Camp, Dance Camp, as well as two Dance Intensives offered in July for intermediate and advanced dancers. Each camp will be limited to eight students to promote social distancing, so be sure to register soon since spots are filling up quickly!
Camp Gardens in Palm Beach Gardens (In-Person)
The City of Palm Beach Gardens is moving forward with re-opening Camp Gardens to Palm Beach Gardens residents only, operating in a precautious manner to ensure a safe and fun summer for all campers. The camp is divided into two groups to guarantee that children of all ages are engaged.
Camp Gardens Juniors (ages five and six) takes place at the Lakeside Center, where kids will fill their week with exciting activities, arts and crafts, outdoor playtime, movies, and games. Field trips will be limited to local parks and City facilities, such as the Palm Beach Gardens Aquatic Center.
Camp Gardens (ages seven through thirteen) takes place at the Burns Community Center. This group will have their hands full with team sports, arts and crafts, gym games, outdoor fun, and board games. Camp Gardens will also visit local recreation centers, including the Gardens Aquatic Complex.
The City also offers a variety of sports camps for ages ranging from four to thirteen years old. Registration is now open for PBG Predators Soccer Camp, CSP Baseball Camp, and Tennis Camp. These camps introduce and reinforce the proper fundamentals of each sport so your kid can train like the pros! For more information on all camps and to register online, click here.
Miami Dolphins Camp (Virtual)
The Junior Dolphins Virtual Summer Camp is a five-day program held from June 22-26 for boys and girls with a passion for football. The camp provides junior athletes with the chance to learn the basics of the sport and focus on drills, skills, and agility from their own homes. The camp is instructed by Miami Dolphins alumni and Junior Dolphins coaches. The camp also includes a Nike Care Package with a shirt, shorts, drawstring bag, and an autographed item from the Dolphins!
The Miami Dolphins Cheerleaders are also hosting their first Virtual Cheer Camp from June 22-26. Welcome the cheerleaders into your home as they teach your child cheer, dance, flexibility, and conditioning face-to-face. By the end of the camp, your child will know a full chant, cheer, and dance. This once-in-a-lifetime experience will provide a fun and active outlet for little ones in the safety of their homes. To register for both upcoming camps, click here.
We encourage you to inquire about each camp's social distancing policies before registering, and we hope you continue to stay well. For more information on the South Florida lifestyle and the finest homes of the Palm Beaches, contact a Tauber Real Estate Services Specialist at 561-626-4633.