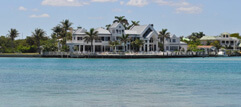 Jupiter Island
Jupiter Island is actually a seventeen mile long barrier island in Martin County, just north of Tequesta and the northern Palm Beach County line. 285 upscale, custom built, single family homes dot the island, most on one and two acre or larger lots bordering the Atlantic Ocean, the Intracoastal Waterway or both. Long a refuge for the rich and famous, like golfers Nick Price, Gary Player, Greg Norman and Tiger Woods, singer Celine Dion and many captains of industry, residents here take pride in their very unique and close knit community. Several years ago, Judge Wallace Sample wrote about the Island's lifestyle in such a beautiful way that the town now shares his words with all new residents:
The community is unique – it is the one and only, different from all others, having no like or equal. It is unusual, extraordinary and rare. It was cut from one mold and its counterpart cannot be found elsewhere. Many people would consider it dead – but it is very much alive with genteel living, friendship and compatibility. The Town doesn't want what many others have, but many others would be better off if they had more of what this Town has and wants to keep – seclusion, solitude and tranquility.
Register with us to save your favorite properties and receive notifications when similar properties become available.
Search Jupiter Island Real Estate