Serving authentic Tex-Mex cuisine drawing on family recipes and great cocktails in a lively atmosphere, Cactus Grille & Tequila Bar is North Palm Beach County's hottest new destination for cocktails, dining, and entertainment. Owned by Jupiter family Jason and Beth Brown, and owned and operated by their children Jordan, Olivia, and Callahan Brown, Cactus Grille & Tequila Bar evokes a modern feel with a lively vibe ideal for late-night entertainment. The restaurant features a 120 seat dining room, bar and lounge area, 20-seat private dining room and an expansive outdoor terrace/bar.
The heart of the menu features authentic and inventive Tex-Mex cuisine with family recipes, world class margaritas, and Tex-Mex favorites. Check out some of our favorites from the menu below:
BLACKENED FLORIDA GROUPER
Roasted sweet corn risotto, tomatoes, basil, parmesan, pico de gallo, guacamole, sour cream, corn crisps
CHICKEN A LA PIMIENTOS
Toasted garlic, pickled chiles, fresh lemon juice, chablis, parsley butter, roasted potatoes, wilted greens
PRIME BLACK ANGUS NEW YORK STRIP LOIN
Cowboy caviar, caramelized shallot sauce, yukon gold mashed potatoes, onion crisps
BARBECUED SCOTTISH SALMON
Citrus-jicama salad, fresh cilantro, lemon vinaigrette
BARBECUED BEEF BRISKET TACOS
Wild Bill's chipotle BBQ, diced onions, cilantro
WILD MUSHROOM TACOS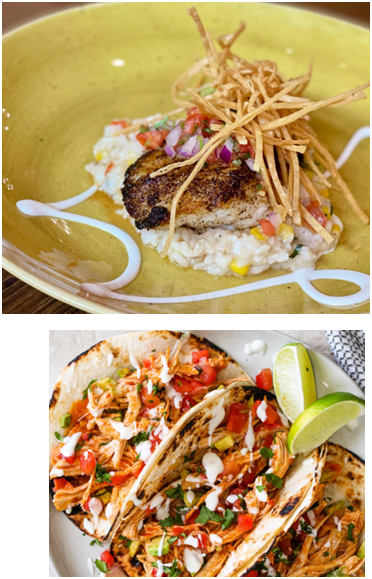 Garlic, shallots, black truffle vinaigrette, goat cheese
FLORIDA SHRIMP TACOS
Shredded cabbage, chipotle aioli, candied jalapeños
Where and When:
Location:
Conveniently located in the Shops of Donald Ross Village at 4650 Donald Ross Road, Palm Beach Gardens
Hours:
Tuesday | Wednesday | Thursday 4:00pm - 10:00pm
Friday and Saturday 4:00pm - 11:00pm
Sunday 4:00pm - 9:00pm
Happy Hour Tuesday - Friday 4:00pm - 6:30pm
Closed Mondays
See you at the newest hot spot in town: Cactus Grille & Tequila Bar. For more information on the Finest Homes in the Palm Beaches, contact a Tauber Real Estate specialist at 561-626-4633.