Did you know that right here in South Florida, from Palm Beach to Jupiter Island, there are three awesome facilities that offer up close-and-personal encounters with our friends who have fins, feathers, and fur? And that's not all, these gems are all about animal conservation, education, research, and rehabilitation. Check them out:
100 Broadway, Riviera Beach
Open 9am-4pm, Monday- Saturday
Share an experience the whole family can enjoy in the company of endangered and unique Florida manatees. As these gentle giants huddle and snuggle in the warm-water outflows of Florida Power & Light Company's (FPL) Riviera Beach Next Generation Clean Energy Center, you can watch and learn about these magical creatures in their natural habitat.
For decades, manatees have been attracted to the warm-water discharges of FPL's energy center, following a watery travel route that mother manatees have taught to manatee calves. The best opportunity to witness these gentle giants at Manatee Lagoon is Nov. 15 through March 31. Increase your chances to spot sea cows as cooler weather attracts larger pods of the marine mammals during this time of year.
14200 U.S. Highway 1, Juno Beach
Open daily 10am-5pm
Loggerhead Marinelife Center (LMC) is a non-profit education and ocean conservation facility located on the Atlantic Ocean in Palm Beach County, Florida. The facility houses a variety of exhibits, live sea turtles and other coastal creatures. Exhibits include a massive prehistoric Archelon sea turtle replica, saltwater aquaria and displays of local wildlife, as well as educational displays about South Florida's marine environment.
For more than three decades, LMC has been committed to the rehabilitation of sick and injured sea turtles. LMC's advanced hospital is one of the leading facilities in the state and a prime resource for sea turtle rehabilitation. It features a surgical suite, upgraded x-ray room, blood work lab, endoscope, and ultrasound – allowing numerous sea turtles to be examined and treated at LMC.
LMC's treatment protocol is from rescue to release – which means that sea turtle patients are released as soon as they are medically cleared. If a patient is deemed non-releasable, it will be transferred to a different facility. All of the sea turtle patients on campus are actively receiving treatment with the ultimate goal to allow each rehabilitated sea turtle back into the ocean as quickly as possible.
Go and visit the turtles as they recover and rehab from illness and injury! The many tanks offer an encounter, as well as the history and background of the sea turtles who were rescued. You can hear about their progress online or in person, and even adopt one!
Located at Loxahatchee River District, 2500 Jupiter Park Drive, Jupiter

Open 10am-4:30pm, Tuesday-Sunday
More than just a place to see animals, Busch Wildlife is a real wildlife adventure! The Sanctuary offers visitors a one-of-a-kind opportunity to learn about Florida's wildlife and natural environments. This unique refuge combines a nature center with a wildlife hospital.
Nature trails lead visitors through pine flatwoods, oak hammocks, and cypress wetlands. Along the trails are wildlife habitats exhibiting a variety of native animals from eagles to panthers, crocodiles, foxes, snakes, bears, and more.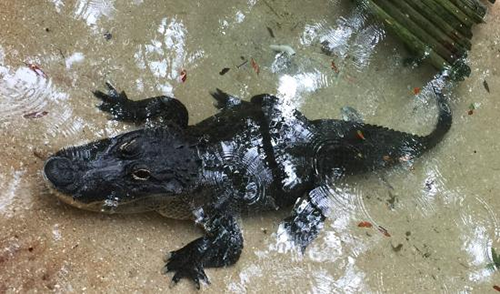 Bring the whole family for a real wild experience.
1301 Summit Boulevard, West Palm Beach
Open daily 9am-5pm
The Zoological Society of the Palm Beaches, Inc. Palm Beach Zoo & Conservation Society inspires people to act on behalf of wildlife and the natural world. The zoo advances their conservation mission through endangered species propagation, education and support of conservation initiatives in the field.
The zoo is an ideal field outing for of all ages! Visit habitat highlights such as Malayan tigers, jaguars, koalas, Komodo dragons, and giant anteaters; enjoy the play fountain and wildlife carousel; or participate in a zoo class or guided tour for an engaging educational experience.
Animal experiences include:
Sloth experience
Aldabra experience
Giant anteater experience
Koala experience
Flamingo experience
Creepy cool experience
Date with Darla experience
After you've met some of South Florida's furry, finned, and feathered friends, contact a Tauber Real Estate Services specialist at 561-626-4633 to find out about real estate opportunities from Palm Beach to Jupiter Island.