South Florida's largest waterfront music and art festival is right around the corner! SunFest, now in its 37th year, will be held on May 2-5 in downtown West Palm Beach. It is expected to attract more than 130,000 local and out-of-state visitors looking to enjoy popular music, food, and art. With three live stages situated along the Intracoastal Waterway, it is no wonder SunFest is the Sunshine State's most popular music festival!
This year's lineup features stars such as country music legend Keith Urban, EDM artist Diplo, pop band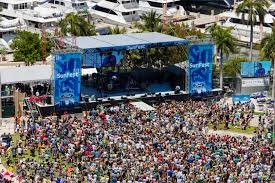 One Republic and singer G-Eazy, and other bands such as Tears for Fears and Earth, Wind, & Fire. To view the full lineup, click here. Festivalgoers are guaranteed an exciting weekend full of great music, dancing, and nightlife on Flagler Drive.
In addition to the concerts, there is so much more to do throughout the long weekend:
The Art District
Browse through the Art District between music sets to shop for one-of-a-kind pieces and participate in interactive installations! Jewelry, photography, sculpture, and ceramics from over 80 artists and vendors will be showcased from 5-10 p.m. on Thursday and Friday and Noon-9 p.m. on Saturday and Sunday.
Sunfestivities
Watching the country's top artists perform live is just the beginning – SunFest's shows are complemented by additional VIP experiences and fantastic food. Two sensational floating barges on the waterfront are a party sanctuary, with dance music, special cocktails, and games. The ChillZone is the perfect area to relax and unwind in the Lotus Lounge or play games with friends. You can also enjoy spirits sampling and food trucks here. From the active to the laid-back, there is truly something for everyone at SunFest. An extravagant firework show closes the weekend on Sunday, May 5 at 9 p.m. This display, set to music, is one of the largest fireworks displays in South Florida, and is a popular highlight of the festival that ends the weekend with a bang!
Other Things to Do
There is plenty to do before or after the festival, too! Clematis street, adjacent to Sunfest's gates, is teeming with nightlife and popular eateries such as Pizza Girls and Rocco's Tacos. A trolley also runs to and from City Place, where more restaurants and shops are conveniently situated.
Mark your calendar for the largest summer concert of the Palm Beaches! And contact a Tauber Real Estate Services specialist at 561-623-5480 to purchase your dream home near this fantastic event.