The leading paint brand, Behr released its 2020 Color Trends Palette and this collection is a stunning range from an earthy orange to an energetic green. Also, they are so versatile that you can work in both modern and traditional spaces.
2020 marks the start of a new decade, so the longing for more well-rounded lives, the desire for balance – both at home and work is all on our minds. This new collection provides this balance with the themes of well-being and wellness, connected experiences, deliberate color stories and inviting environments.
Dusty Lilac
Soft purple never looked so good. It has a vintage flair and compliments a range of dark hues.
Charismatic Yellow
This hue is vibrant and happy, exactly what your home should be.
Red Pepper
Bold and spicy. Perfect for an accent wall or even for your home accessory items.
Back to Nature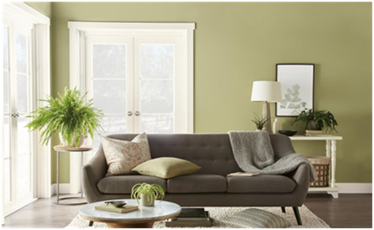 Calming and serene. Engages the senses.
Creamy Mushroom
Neutral and timeless. Some call it "greige". Your room décor will pop with this as a background.
Dragonfly
The perfect blend of blue and green for your coastal vibe.
Add some color to your home! Whatever hue catches your eye, these paint colors are sure to compliment your home and give you an updated look. For more information on the Finest Homes in the Palm Beaches, contact a Tauber Real Estate specialist at 561-626-4633.