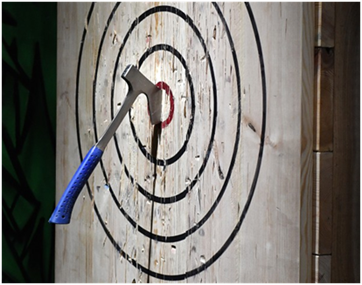 Yes, that's right: Axe Throwing. The entertainment activity that is sweeping (or should we say carving) the nation has come to Palm Beach County. Since the dawn of man, humans have been throwing stuff at other stuff. Why? Because it's fun! Game of Axes is Boynton Beach is AXE-cited to bring the thrill of axe throwing to the heart of South Florida.
What's with all the AXE-citement, you ask? You get to throw axes at wooden targets… while hanging out with your friends and enjoying cocktails! The game is simple and the technique to throw can be learned quickly. With the help of their talented axe-masters, you will be hitting bullseyes and sharing in the passion for throwing axes in no time. Get back to your primitive self with Game of Axes the premier axe throwing bar.
What to Know Before You GO…And Throw
Location
12550 S Military Trail
Boynton Beach 33436
Packages and Pricing
Custom packages available for corporate events, birthday celebrations, anniversaries, bachelor / bachelorette parties… any occasion! Just ask! Their dedicated Special Events team will ensure you have an axe-cellent party from start to finish!
$22 $38 $35
_________________________________________________________________________________________
What is axe-throwing?
Axe-throwing is similar to playing darts but instead you are throwing axes.
How long does it take?
Their axe-master will teach you the basics in about 10 minutes then you will have 1-2.5 hours of gameplay, depending on the size of your party.
What to wear?
Wear closed toe shoes but besides that, be comfortable.
Is it safe?
Yes. Safety is the #1 priority. All axe-throwers must go through a safety and rules lesson during their training with the axe-master
Age limit?
6 years of age to play. anyone under the age of 18, must have a parent or guardian sign our waiver.
What to bring?
You really don't need much. Bring friends and a willingness to have fun!
See you at the bullseye! For more information about the fabulous lifestyle and finest homes in the Palm Beaches, contact a Tauber Real Estate Services specialist today at 561-626-4633.