Wallpaper is a fantastic tool that can pack a visual punch. It's available in a seemingly unending variety of colors, patterns, and textures, and depending on what you choose, it can be either big and bold or soft and subtle. What's also great about wallpaper is that it can be used in many different ways. If you want to incorporate wallpaper but aren't sure how, then consider one of these ideas.
Cover the Walls
The most classic use of wallpaper is to cover all the walls in a space. The key is to think in terms of contemporary colors, patterns, and styles. In certain rooms, a bold, graphic paper can look fabulous covering all the walls, while in other rooms a simple pattern or texture can create subtle interest.
Cover Half the Wall
Covering either the top or bottom half of a wall with wallpaper is a great way to get the look without overwhelming the space.
Create a Feature Wall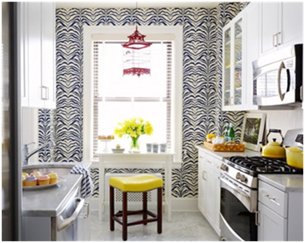 A wallpapered feature wall is a great way to either create or enhance an already existing focal point. It draws the eye in and creates a striking feature. When it comes to this use of wallpaper, you can go bold or you can go subtle, just make sure you're not competing with any other focal point in the room.
Wallpaper the Ceiling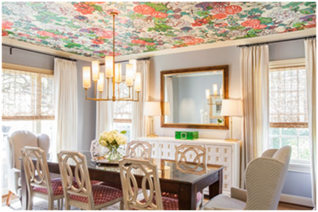 So often people forget to look up, but when there's something to look at, what an impact it makes! If you're going to wallpaper the ceiling, you may as well go all the way and choose something highly decorative or bold. Don't waste the effort on something subtle. This is not a recommended DIY project, as the installation is awkward and you should ensure it doesn't bubble or peel. Get it done right the first time and hire a professional installer.
Decorate the Inside of a Bookcase
An open bookcase is a great place to add a little decorative flair with wallpaper. Instead of leaving the backs of the open shelves bare, cover them with a pretty pattern that complements your room.
Hang Wallpaper as Art
If you want to use a really special wallpaper but can't afford to do a big project, consider having a sample piece framed and hanging it on the wall. This is a great way to incorporate the pattern without the effort or expense of traditional applications.
When it comes to sprucing up your home, think "outside the walls." Wallpaper is a great way to add visual impact. For more information on the finest homes of the Palm Beaches, contact a Tauber Real Estate specialist today at (561) 626-4633.