One of the best perks of living in the Palm Beaches is the opportunity to be outside 12 months a year. Whether you have a patio, a deck or a backyard lawn, there's plenty of reasons (and seasons!) to be outdoors. Check out these ideas that are sure to wow your outdoor space.
Dining Large and In Charge
If you love throwing dinner parties, why not take your flair of entertaining outside. A long dining table provides a drama and function. Line the center with flowers or candles (or both!) to delight your guests.
Backyard Misters
Transform your outdoor living and entertaining areas into a cool an soothing tropical space. Who doesn't love a cool mist on a hot night or a sultry night? It's like air conditioning for the outdoors! There are lots of options to choose from, depending on your style, space dimensions, and backyard décor.
Update Your Shade Game
A retractable awning is a great way to protect you from the hot, bright sun and keep you shaded while enjoying your outdoor space.
Get Comfy with a Modular Set
Create a cozy setting with multiple-piece modular patio sets. You can arrange the pieces for a cocktail hour, or afternoon cookout, or a chat with friends. Be your own designer and create different looks for your entertaining needs.
Cool Firepits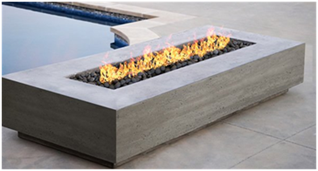 Sure, firepits have been around for a while, but there are some modern, elevated looks that are sure to 'heat up' those cooler nights in the best way.
For more information and tips on the South Florida lifestyle and the finest homes in the Palm Beaches, contact a Tauber Real Estate Services specialist at 561-626-4633.