Going stir-crazy in quarantine and need some fresh air? Luckily, Jupiter and Palm Beach Gardens are home to renowned natural areas with picturesque walking paths. Hiking is a great option to stay active, improve mental health, and boost your mood in this unique time. Here is a list of scenic hiking trails that showcase the best of Palm Beach County's flora and fauna:
Riverbend Park
Riverbend Park nature trails wind through more than just lush landscape and freshwater ponds; they lead visitors through ancient Indian archaeological bounties and Seminole War battle sites. The Jupiter Park features ten miles of interconnecting hiking paths that allow visitors to experience Florida as early settlers did. It is common to spot deer, cranes, and even wild turkey as you stroll along the Loxahatchee River or picnic under a shady Seminole chickee. Riverbend's nature trails are the perfect way to get active and explore Jupiter's local flora and fauna.
Delaware Scrub
There is a surprising variety of ecosystems in the heart of Jupiter, including one of the few cypress swamps in Palm Beach County, where trees grow up to eighty feet in height. Delaware Scrub offers plenty of walking paths, including the paved 0.35-mile Forked Bluecurls Trail, the 300-foot Cypress Swamp Boardwalk, and a wildlife observation platform that extends over a tidal swamp. As you walk through this nature preserve, gaze at the beautiful native vegetation and wooded area in the center of town!
Jupiter Ridge
This natural area contains 270 acres of various ecosystems and 7,600 feet of frontage along the Intracoastal, boasting the longest shoreline along the waterway in the county. With three paved and sandy trails to choose from – Little Blue Heron Trail (paved, 0.2 miles), Pawpaw Trail (sandy, 0.6 miles), and Scrub Lizard Trail (sandy, 1.7 miles) – visitors can imagine how coastal Palm Beach County appeared before construction. Keep your eyes peeled, as you may be lucky enough to spot a gopher tortoise or manatee on your stroll.
Limestone Creek
It is no wonder Limestone Creek is a favorite amongst kayakers, fishermen, and hikers. This 52-acre natural area features three paved and sandy trails that are no more than a mile in duration and lead through flatwood and mangrove ecosystems. Wading birds, bald eagles, and manatees can be seen as you explore the wild side of Jupiter.
North Jupiter Flatwoods
This site is a special part of Florida's Greenways and Trails System, a stretch of protected lands adjacent to the Loxahatchee River. There is a paved 0.55-mile nature trail and a sandy 1.44-mile hiking trail, in addition to a boardwalk that leads through a cypress swamp. This site is home to several rare plant species and ranks among the most diverse natural areas in the county.
Jupiter Inlet Lighthouse Outstanding Natural Area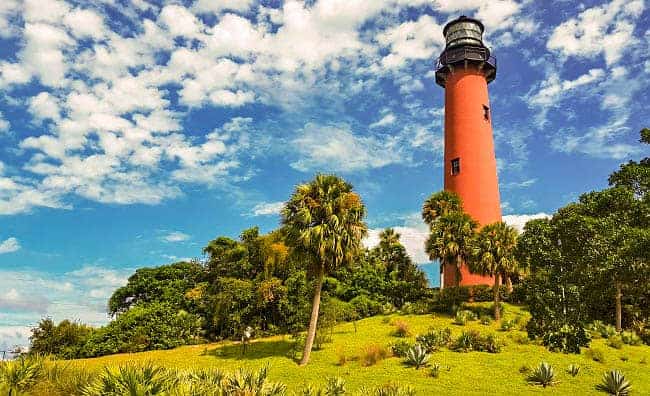 This historic site lies beside the Jupiter Inlet Lighthouse and Museum and the George Washington Tindall Pioneer House. The area is crowned as a local treasure for its exceptional biodiversity and rich history. Here you can find special status species, evidence of 5,000 years of human inhabitance, and a north-side walking trail that leads to a manatee lagoon. Visitors are encouraged to bring binoculars to get a closer look at Jupiter's unique wildlife.
Sweetbay
Sweetbay is a 1,094-acre historic natural area in Palm Beach Gardens and is part of the Great Florida Bird and Wildlife Trail. There is a short 0.35-mile paved trail and an observation platform overlooking wetlands, where you can spot wading little blue herons, snowy egrets, and endangered wood storks. In the summertime, this green gem is ablaze with wildflowers and singing Bachman's sparrows.
Frenchman's Forest
This 172-acre area in Palm Beach Gardens is part of the Great Florida Bird and Wildlife Trail and boasts four paved and sandy hiking trails. There are more than 500 animal species to observe as you stroll through the beautiful walking paths, including the great horned owl, gopher tortoise, and manatee. You can also find a boardwalk through a cypress swamp and an observation platform extending over a tidal swamp. All residents in northern Palm Beach County should witness the beauty of the endangered animal and plant species that seek refuge in Frenchman's Forest.
Jonathan Dickinson State Park
Jupiter residents can explore habitats and history in their own backyard as they walk through Jonathan Dickinson's scenic nature trails. This state park was formerly a training station for soldiers during World War II, but now serves as an outdoor playground teeming with adventure. While kayaking and canoeing are popular pastimes at Jonathan Dickinson, the park is also a hiker's heaven. There are two long trails: the Kitching Creek Loop Trail (7.5 miles) and the East Loop Trail (9.8 miles). The Hobe Mountain Trail (0.4 miles) is a shorter boardwalk trek that leads to South Florida's highest point, with panoramic views of the ocean, Intracoastal, and park. Each trail provides an intimate encounter with local flora and fauna that is sure to keep you coming back!
*Please note that state park access is subject to change as the pandemic evolves. We advise you to adhere to updated social distancing and public safety guidelines.
Experience nature and all its glory in northern Palm Beach County. For more information on the finest homes in the Palm Beaches, contact a Tauber Real Estate Services specialist at 561-626-4633.