As a South Floridian, you live where others vacation, but why not vacation where you live? If your summer plans were cancelled, there is still time to plan a staycation here in Palm Beach County. Our area is home to waterfront resorts, luxurious spas, and award-winning restaurants, so put your vacation time to good use and take some well-deserved "me time" near home! We compiled a list of luxurious hotels with summertime deals and family-friendly activities to kickstart your staycation planning.
Where to Stay
Eau Palm Beach
South of Palm Beach lies Manalapan, a quaint town that is home to the hospitality crown jewel of the Palm Beaches: Eau Palm Beach. A visit to the Eau guarantees relaxation and rejuvenation with waterfront views, two pools, a private beach, and a world-class salon and spa. The resort is offering its "Press Play" package through September 30, where guests will receive a $50 resort credit that can be used at its spa, restaurants, retail shops, or for room service. An escape to Eau Palm Beach is the perfect staycation for residents in need of an extra dose of ocean air.
The Breakers Palm Beach
A hotel known as the epitome of opulence, The Breakers is a landmark hotel steeped in Palm Beach history. A staycation at this resort is a lavish retreat rather than an ordinary hotel stay. For residents looking for a prolonged visit in Palm Beach, The Breakers is offering a sixth night free when guests stay six consecutive nights. There are plenty of amenities, including five swimming pools, a private beach, a salon and spa, two 18-hole golf courses, and eight restaurants. The resort is surprisingly family friendly, too. Nothing compares to the luxury and exclusivity of The Breakers Palm Beach.
Hilton West Palm Beach
Hilton West Palm Beach is connected to the Palm Beach County Convention Center and is surrounded with art, culture, and entertainment. It is a short walk away from Rosemary Square and Clematis Street, and it is less than a two-minute drive from pristine beaches and boutiques on Palm Beach. If you prefer a more relaxing staycation, the hotel offers a swimming area with cabanas and lounge chairs that now have additional space between one another. The hotel's signature restaurant, Galley, guarantees a unique dining experience with an internationally influenced menu and farm-to-table ingredients. Hilton West Palm Beach's Florida resident rates, central location, and steadfast reputation make it a great staycation getaway.
The Ben
The Ben is the only waterfront hotel in West Palm Beach and offers exclusive views of the Palm Harbor Marina and Intracoastal. The hotel made its debut early this year and is inspired by one of South Florida's original homes, but its Old Florida charm has been accented with modern influences. Its lavish amenities include a rooftop pool deck with private cabanas, a fitness center, bike rentals, and valet parking. The Ben hosts two on-site restaurants: Proper Grit, a chophouse offering locally sourced foods, and Spruzzo, an Italian-inspired rooftop lounge and bar. Please note the hotel is currently only offering in-room dining to ensure the safety of guests. For the summer, The Ben is promoting a Florida resident discount, and when guests stay three consecutive nights, they receive the fourth night free. The Ben has quickly become West Palm Beach's top destination for a dream staycation.
Canopy by Hilton
This West Palm Beach hotel has become the talk of the town since its debut amid a pandemic. The unprecedented circumstances did not overshadow the hotel's incredible amenities, including a rooftop pool and bar, airy atrium surrounded by hanging banyan roots, and rooms with espresso machines. The hotel features two restaurants, Banter and Treehouse, with menus inspired by Latin American and Caribbean cuisine. The latter eatery is a rooftop lounge offering more than just delicious food; it boasts panoramic views of West Palm Beach. Take advantage of Canopy's modern amenities, rooftop views, and proximity to the beach on your staycation!
PGA National Resort and Spa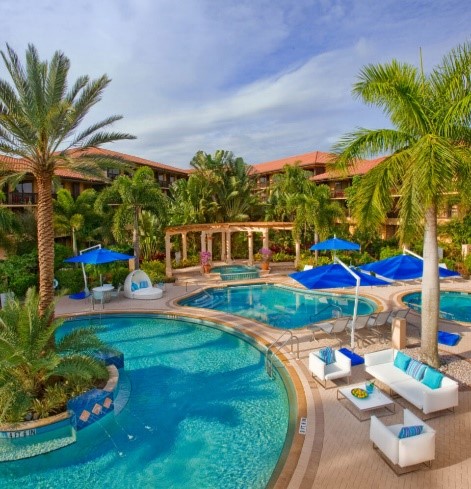 Home of the PGA Tour's Honda Classic, the PGA National Resort and Spa is a golfer's playground and an enviable staycation spot for Jack Nicklaus or Arnold Palmer fanatics. Though sports are the star of the show, this resort's salon services and fine dining restaurants must not be overlooked. PGA National is also offering various packages throughout the summer to welcome back guests, including the "Summer Golf Escape and Play" package tailored towards golfers, a resort and spa credit, a Florida resident discount, and a third night free when two consecutive nights are booked. PGA National allows guests to tailor their staycation to their interests, whether that be the ultimate golf experience or the epitome of self-indulgence.
Jupiter Beach Resort and Spa
Jupiter's only oceanfront resort and spa is situated on a 1,000-foot stretch of secluded shoreline, making the ocean its neighbor. Jupiter Beach Resort and Spa is home to a waterfront pool, state-of-the-art fitness center, and the signature Sinclair's Ocean Grill restaurant. However, the resort is best known for its rejuvenating spa, which pampers guests with massages, skin care, body treatments, and more. Jupiter Beach Resort is extending various discounts for the summer: the "Sunnies and Savings" package offers up to 20% off plus breakfast for two daily and the "Jupiter Jaunt" package allows guests who stay two nights to receive the third night free. The "Good Neighbor Discount" also provides Florida residents up to 25% off stays. This resort has everything you need for your dream staycation.
Things to Do
Phil Foster Park
Snorkeling under the Blue Heron Bridge in Phil Foster Park is something every vacationer should experience, so why not act like a tourist on your staycation? This easily accessible snorkeling site is teeming with diverse marine life, most of which are a rare sighting anywhere else in the world.
Peanut Island
Where else can you snorkel along inshore reefs, wander through mangroves, and explore the historic Kennedy Bunker? The best ways to access Peanut Island are by water taxi, paddle board, or kayak. Paddle Boarding Palm Beach offers guided kayak and stand up paddle board tours around the island, too. An excursion to this small island is the perfect daytrip for the whole family.
Loggerhead Marinelife Center
Aside from giving a rare glimpse into the world of rescue and rehabilitation, Loggerhead Marinelife Center offers exciting summer experiences unique to Jupiter. The Sunrise Nest Excavation program is a popular favorite, which allows guests to witness a live excavation of baby sea turtles and watch them waddle their way to the sea. Loggerhead Marinelife Center hosts many events over the summer, so pay them a visit on your staycation!
Jupiter Lighthouse Tours
The Jupiter Inlet Lighthouse and Museum has finally reopened and is resuming the local-favorite Sunset and Moonrise Tours. All it takes is 105 steps to spend a special evening atop the lighthouse with panoramic views of the Intracoastal Waterway, Atlantic Ocean, and the town of Jupiter Island.
Palm Beach and Jupiter Dolphin Tours
There are so many ways to get up close and personal with native wildlife in the Palm Beaches. Breathe in the fresh ocean air and feel the wind in your hair as you coast along the water, spotting bottlenose dolphins, sea turtles, and the occasional shark and sailfish along the way. These guided tours focus on conservation and wildlife education and support local nonprofit conservation organizations.
West Palm Beach Food Tour
If you want to discover authentic flavors of South Florida (yes, that includes key lime pie), you cannot miss this private food tour through the heart of Palm Beach County. You will visit five locally owned restaurants, meet the chefs, and learn about local history along the way!
Lion Country Safari
Lion Country Safari's drive-through safari highlights the best of South Florida's recreation while strictly adhering to social distancing guidelines. On your drive, you will pass 900 animals throughout seven different preserves. Goosebumps are guaranteed as zebras, giraffes, and dozens of other animals cross right in front of your car!
For more information on the finest homes in the Palm Beaches, contact a Tauber Real Estate Services specialist at 561-626-4633.