Wood, in its natural state is a beautiful signature element that you will want to consider when decorating your home. Pure-looking, unpainted wood reveals the wood's imperfections and overall beauty, while encouraging a harmonious, peaceful environment. Why not give it a try?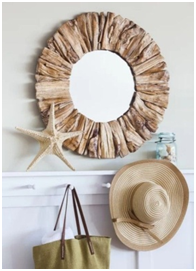 Drift On By
Driftwood is a great way to bring in a natural element that creates a beachy vibe. Pair it with some other coastal items to highlight the South Florida lifestyle.
Tree Trunk Accents
Trunk stumps are a beautiful way to bring the outdoors in. When grouped with other elements, the look becomes modern and clean.
Sit a While
The variety in grain and color offers a welcome reprieve in a room filled with cool surfaces. Bring in warm wood tones to complement your kitchen and family gathering space.
Upcycle
Raw wood is a great material for upcycling. Save these treasures from the trash to create coziness and coolness in your room. Give some old wood a fresh start with a glass top and some clear varnish.
Wood-erful Vases
Start small with some pretty vases that showcase the beauty of raw wood. These really show off the simple plants that they hold. Sometimes, simple is best.
Add Some Flair to Your Walls
Show off your style with a natural-wood accent wall. Whether it's in a hallway, stairway, or one of your rooms, a wood wall completes a modern, clean look.
Think of all the wonderful ways you can showcase and use natural looking wood items in your home. For more information on the finest homes in the Palm Beaches, contact a Tauber Real Estate Services specialist at 561-626-4633.