Akira Back Delray
Together with The Ray Hotel, chef Akira Back opened his first Florida namesake restaurant in Delray Beach. Drawing on inspiration from his Korean heritage and travels around the globe, chef Back has created a menu that blends modern Japanese cuisine with authentic Korean flavors. In addition to his signature dishes, Back has created new items unique for the Delray Beach location. Complemented by the sleek design with layers of gold detail and tactile finishes in carbon black, the unparalleled dining experience is a true statement of luxury.
Chef Akira Back
Chef Back attended and completed his cooking education at the International Culinary School at The Art Institute based in Colorado, establishing the framework of his technique and amplifying his knowledge of Asian cooking, allowing him to incorporate his artistic vision and Korean heritage.
His repertoire of restaurants include the famed Yellowtail Japanese Restaurant & Lounge located inside the Bellagio Resort & Casino in Las Vegas that has become a dining institution breeding several new concepts. Akira Back's namesake restaurant, known for its limitless creativity in reshaping modern dining to create a distinguished experience, continues to span across the globe with locations in Dubai, Toronto, Singapore, Thailand, Vietnam, Seoul with new venues on the cusp in London, Paris, Dallas, Houston, Delray Beach, Marrakech and Riyadh expected within the next 2 years. DOSA, chef Back's award-winning concept was bestowed consecutive Michelin stars for eminence in innovative cuisine and service.
Our Favorite Menu Items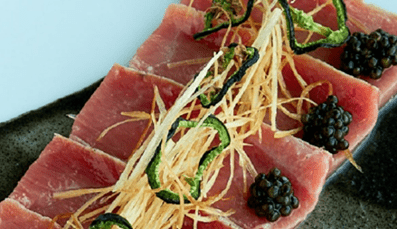 AB TUNA PIZZA
Umami Aioli, Micro Shiso, White Truffle Oil
WHITEFISH CRUDO
Crispy Shallots, Nanbanzu Sauce
OCTOPUS CRUDO
Onion Salsa, Olive Oil
TORO/YELLOWTAIL TARTARE
Oscietra Caviar, Wasabi Soy, Brioche Toast
TRUFFLE BOMB
Sea Urchin, Sweet Shrimp, Gejang, Smoked Potato Foam, Caviar
LOBSTER TEMPURA
Korean Pear, Jalapeno, Beetroot, Amazu Ponzu
FILET TOBANYAKI
Black Market Angus, Mixed Mushrooms, Umami Sauce
SHRIMP TEMPURA
4 Pcs. Shrimp Tempura, Seasonal Vegetables, Soy Dashi
Be sure to check out the world-class cuisine at Akira Back in Delray Beach. For more information on the finest homes in the Palm Beaches, contact a Tauber Real Estate Services specialist at 561-626-4633.